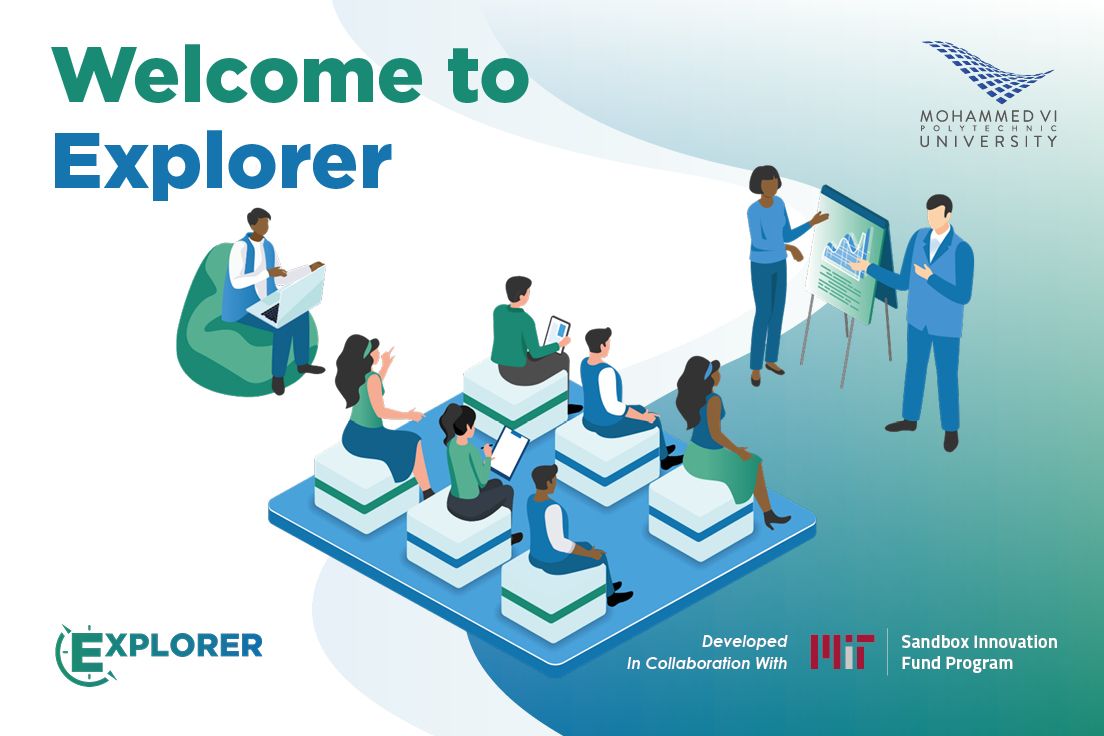 Mohammed VI Polytechnic University (UM6P) has joined forces with the MIT Sandbox Innovation Fund Program (MIT Sandbox) to launch the UM6P Explorer program —a program that provides entrepreneurial education, mentorship, and funding to innovators from the UM6P community. The Explorer program brings together diverse innovators and entrepreneurs who are eager to impact the Moroccan, African and Global entrepreneurship ecosystem and advance business, technology, product and social endeavors in those systems.
UM6P Explorer offers a practical, accessible, and personalized approach focused on developing start-up founders looking to bring innovative technologies and solutions to the market. Participants are guided by a set of experienced mentors from MIT Sandbox and from the local ecosystem in Morocco. In addition to support, the program focuses on a "learning by doing" pedagogy and provides a number of entrepreneurs with funding of up to 250,000 DH. The goal is to help each startup develop a prototype and find its first customers.
Despite the unprecedented limitations imposed by Covid-19, UM6P Explorer launched a remote pilot cohort in March 2020, funded by UM6P Ventures. The program was able to engage 43 start-up teams and 24 are continuing to advance their projects. In November, Explorer launched its first cohort for the 2020-21 academic year. Ninety-five teams are participating from UM6P and other Moroccan universities and research institutions.
« UM6P Explorer was co-developed with MIT Sandbox to offer our students and researchers with the necessary support to bring their entrepreneurial ideas to life. This program is part of our efforts to promote entrepreneurship in Moroccan universities and to provide our students and researchers with the opportunity to express their creativity and unleash their energies. » said Mr. Adnane Alaoui Soulimani, startup incubation program manager at Mohammed VI Polytechnic University.
The UM6P Explorer Program was modeled after MIT Sandbox which launched over 4 years ago, providing seed funding, mentorship, and tailored educational experiences to support student-initiated entrepreneurial ideas. With more than 2,000 participants to date, the program has led to the launch of a substantial number of impactful companies across the world. Through the new collaboration with MIT Sandbox, the UM6P Explorer program aims to adapt this successful model to Morocco and develop a new generation of entrepreneurs out of its strong university and research institutions.
"We are excited to see UM6P implement the Sandbox model and advance entrepreneurship in Moroccan universities," said Jinane Abounadi, Executive Director of MIT Sandbox. "The collaboration between the two institutions will empower students and researchers to gain important skills and knowledge as well as access resources to launch innovative startups operating out of Africa."