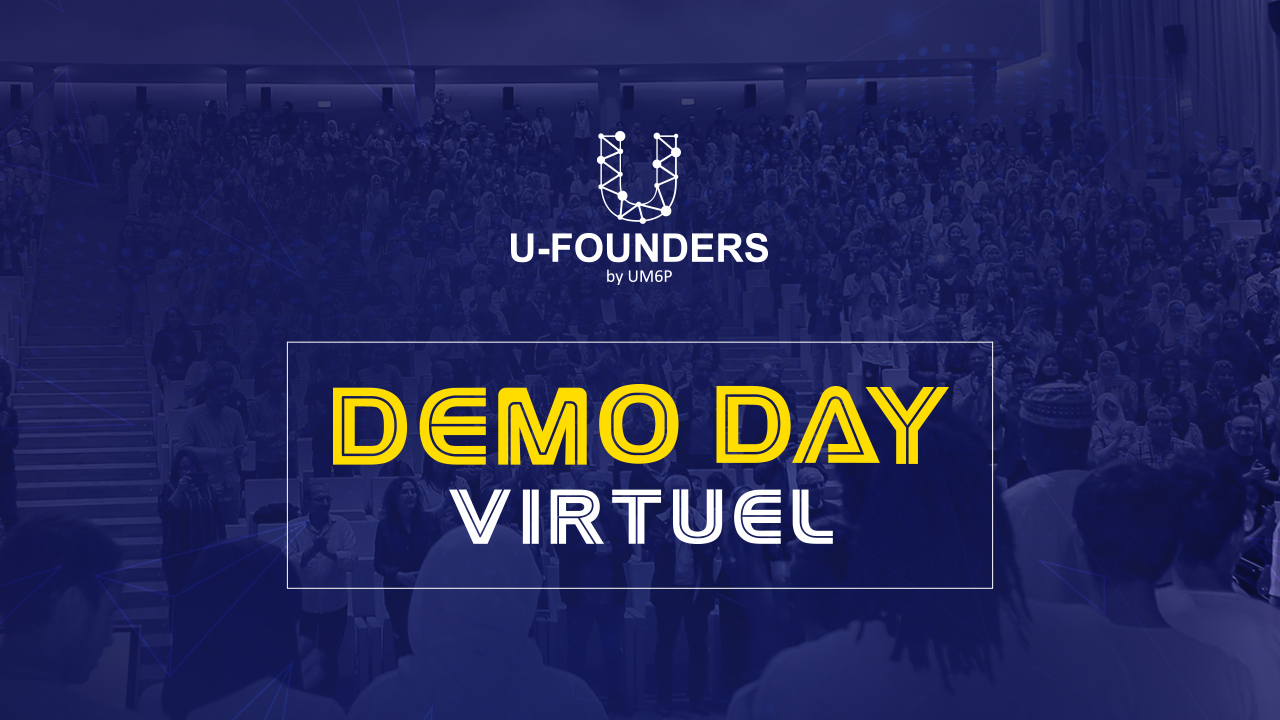 The Demo Day of the first cohort of the U-Founders Incubation program was held on Wednesday, January 6, 2021. This virtual event allowed the program's ten start-ups to present their solutions to the public.
U-Founders was launched in July 2020 by Mohammed VI Polytechnic University with 3 key objectives: to contribute to the emergence of innovative technological Moroccan and African start-ups, to promote the research work carried out within the university and to disseminate the entrepreneurial spirit on its campus.
Throughout these 6 months of support, the entrepreneurs of the program were able to attend around twelve training workshops on various themes related to entrepreneurship and innovation. They were also accompanied by a number of mentors from Morocco and the Moroccan diaspora living abroad.
The entrepreneurs of the U-Founders program come from a diverse set of academic and professional backgrounds and operate in fields such as agriculture, environment, mining, engineering, health and e-commerce. They are all committed to using technology to solve the problems African societies are facing.
Below is the list of the 10 start-ups that participated to this Demo Day, as well as their elevator pitches.
DEEP TECH STARTUPS:
AGRISAFE TECHNOLOGIES:
AgriSafe Technologies is a startup that develops bespoke and safe biological solutions for sustainable crop protection that help farmers protect their crops while minimizing the use of expensive pesticides.
BIOKMIR:
Biokmir is developing platform DNA technologies and a point-of-care diagnostic tool to make infectious disease testing unequivocally more efficient.
PHOSTONE:
Phostone produces tile materials from rocks extracted from phosphate mines with the aim of reducing the environmental impact of phosphate mining activities.
SHALLOW TECH STARTUPS:
AERODRIVE:
Aerodrive Engineering Services is a startup specializing in the acquisition, processing and analysis of data collected by drones.
ECOLEET:
ECOLEET is developing a digital waste management solution for households, hotels, cafes, administrations and universities.
EMMYOR:
EMMYOR connects smallholder farmers to national and international customers, ensures product traceability, and provides an innovative supply chain model, from collection to production and delivery.
DOCHOME:
DOCHOME is a telemedicine platform that connects patients with doctors and provides them with adequate medical advice. The platform also facilitates the self-diagnosis and the monitoring of critical or suspected cases of Covid-19.
JIBLY:
Jibly is a web and mobile platform where users can order homemade meals, prepared by housewives who are passionate about cooking.
NEWAFRIC NOV:
NewAfricNov develops a decontamination equipment based on ultraviolet rays for objects that cannot be disinfected using chemical products.
SOANS:
Soans is a startup developing an eco-friendly robototic lawn mower that saves time, reduces costs and improves the quality of lawn mowing.