The prestigious Journal of American Chemical Society publishes about a breakthrough innovation of UM6P and UA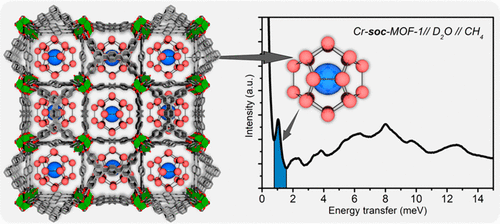 A group of researchers from Mohammed VI Polytechnic University (UM6P) in Morocco and the University of Alicante (UA) in Spain discovered a rational approach to form CH4 (Methane) hydrates by taking advantage of the optimal pore confinement in relatively narrow cavities of hydrolytically stable metal-organic framework (MOFs).
This work has been published in the prestigious Journal of American Chemical Society (JACS), a World's Preeminent Journal for all of Chemistry and the Interfacing Areas of Science (see link to the article: https://pubs.acs.org/doi/10.1021/jacs.0c01459)
Storing Natural gas in solid form (hydrates) before use could help both Morocco and Spain to benefit from the abundant natural gas supply worldwide which produce less carbon dioxide (CO2) emission as compared to Petroleum. The technology could also promote increased use of natural gas to secure potentially large environmental and economic benefits.
"This advance made by this joint premier collaboration between Morocco and Spain in this field is an important step in improving the storage of CH4 and support both Kingdoms initiatives aimed at reducing the dependence on oil and developing new environmentally sustainable technologies," says Youssef Belmabkhout, Professor of Chemical, Biochemical and Green Process Engineering at UM6P, the leading researcher in this publication and a former Senior Scientist at King Abdullah University of Sciences and Technology (KAUST).
"Meeting this challenging target with different storage technologies will require to understand deeply the mechanism of methane hydrate nucleation in different porous media," says Joaquin Silvestre-Albero, Professor of Inorganic Chemistry UA, one of the pioneer scientists in gas storage worldwide.
"Promising MOFs such as the ones studied in this work, developed previously at KAUST, contain often metal clusters held together by organic building block parts known as organic linkers. Repositioning them allow the size and the structural/chemical properties of the pore system to be fine-tuned and enables them to perform many useful functions", explains Belmabkhout.
"The challenge we met in this work was to find optimal condition to grow methane hydrate in a MOF with optimal pores that allow in turn to show a new strategy to enhance the working storage capacity," Silvestre-Albero explains
The research was performed mainly by multidisciplinary and complementary team of experts from UM6P and UA and a former postdoctoral researcher from KAUST (Dr Georges Mouchaham) currently occupying an assistant professor position at the department of chemistry at Ecole Normale Supérieure (Paris).
Past contributions of Prof. Belmabkhout and Prof. Silvestre-Albero have permitted the discovery of various porous materials with the potential to address many challenges
pertaining to energy security and environmental sustainability. The current work shows a nice example of North-South collaboration.
New projects between UM6P and UA are underway. The main goal will be to extend this research to more applied stages. Further research on optimizing the chemical features of various porous materials is also being discussed.
"This is about much more than one field of research," Belmabkhout underlines, "It is about combining many top scientific/engineering skills to advance science and it's implementation in real life".