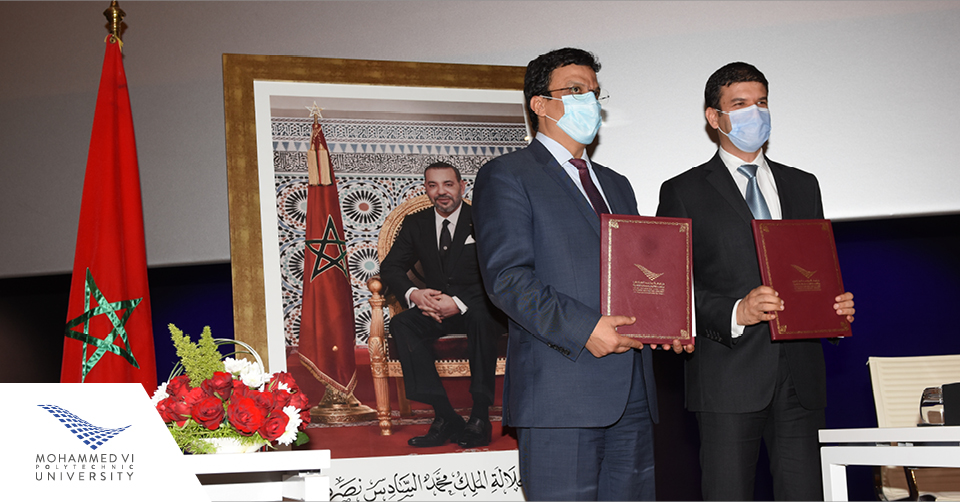 The Governor of the Province of Rhamna, Mr. Aziz Bouignan and the President of Mohammed VI Polytechnic University, Mr. Hicham El Habti, signed a Memorandum Of Understanding to  support sustainable development initiatives in the province.
Through this agreement, the two parties formalized their cooperation, which was initiated since the inauguration of the University by His Majesty King Mohammed VI, in January 2017, as part of the opening of the University to its local and regional environment .
UM6P students from different specialties will play an important role in the deployment of the content of this agreement, as they will actively participate in the proposal and implementation of projects in the province and share their experience at the university with the youth of the region.
This framework agreement aims to achieve the following objectives:
- To strengthen the ties of the University and its ecosystem with the city of Benguerir and, on a larger scale, the Province of Rahamna, to make it a lever of development at the national and continental level ;
- Unite the efforts of all components of the university ecosystem around common objectives, by pooling resources and accelerating the implementation of projects ;
- To open the University to its local environment as a concerned actor aiming to support the development and attractiveness of the region ;
- Give priority to projects that have a direct impact on the local population and pave the way for more structured projects in the medium and long term.
The agreement is structured around five main axes, defined into 25  project-programs covering most of the region, which will be the subject of specific agreements to be drawn up in the short and medium term.
These five axes are health and prevention, training, education and governance, economic development through support for entrepreneurship, the environment and urban and territorial development, culture and city animation.
This initiative will also be strengthened by the contribution of partners and local actors to make it a collective and sustainable project.