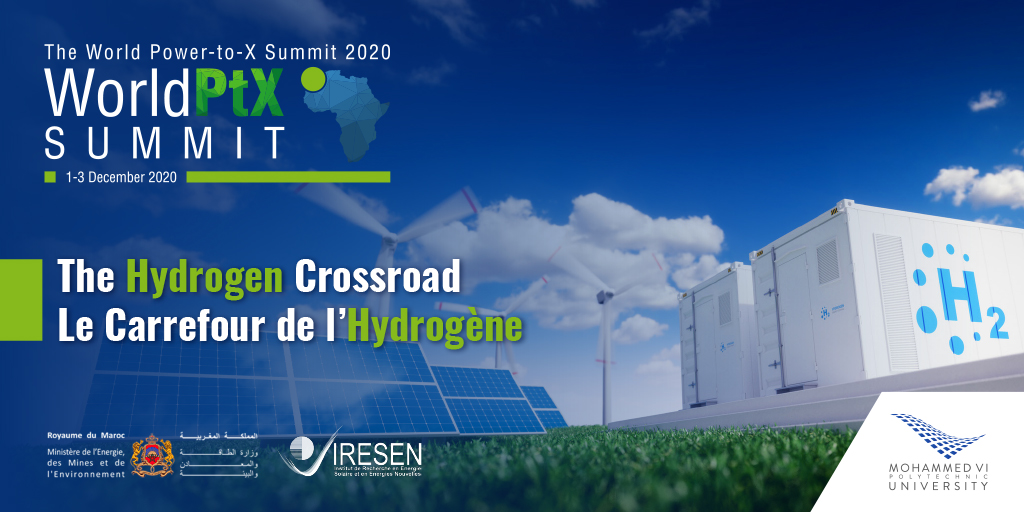 Under the aegis of the Ministry of Energy, Mines and the Environment, the Institute for Research in Solar Energy and New Energies (IRESEN) and Mohammed VI Polytechnic University (UM6P) organized the first edition of " World Power-to-X Summit ". With Germany as guest of honor this global digital event took place from 1 st to 3 December 2020.

This first virtual edition of the WorldPtXSummit, constituted a regional exchange platform, dedicated to Green Hydrogen and its applications ("Power-To-X" sector). Several ministers, state secretaries, business leaders, representatives of national and international organizations (CESE, AIE, IRENA, Dii, ..), researchers and experts took part in this event. During the inaugural session, the Minister of Energy, Mines and Environment Mr. Aziz RABBAH recalled thatGreen Hydrogen today constitutes a real opportunity for our country, and that international partnership is a key factor for the emergence of this sector. As such, the first agreement signed with Germany is a first milestone. Within the framework of the European Green Pact, other partnerships will strengthen Morocco's positioning.In addition, the Director General of the International Association of Renewable Energies - IRENA -, Mr. Francesco LA CAMERA, congratulated Morocco for having been elected by its members as coordinator of the Green Hydrogen initiative alongside of the European Union. For his part, Mr. IKKEN, Director General of IRESEN - co-organizer of this summit, announced that "IRESEN is in the process of setting up a new research and testing platform in the Power to X field, comprising various projects. pilots to produce green ammonia, green methanol and synthetic fuels with important partners, such as Mohammed VI Polytechnic University, OCP and Fraunhofer, with strong support from the German government. ".

Morocco is thus consolidating its role as an active contributor to the global environmental strategy and is already positioning itself as a major player in the green hydrogen sector and its applications. Minister Aziz RABBAH thus presented the Kingdom's progress in this sector, specifying that an action plan will be deployed through the National Hydrogen Commission in order "  to support the development of markets and demand, to prepare export infrastructure, as well as putting in place an adequate regulatory framework. The priorities of this action plan are the strengthening of skills through training and R&D, as well as the establishment of ecosystems and clusters dedicated to this sector  ".

More than 2,000 people fromfrom around sixty countries on five continents attended 90 speakers from different backgrounds dealing with the challenges and opportunities of the green hydrogen economy, across its entire value chain: from green energy to different chemical and industrial applications, as well as technological aspects and market outlook.