Découvrez nos parcours de formation en Science et Technologie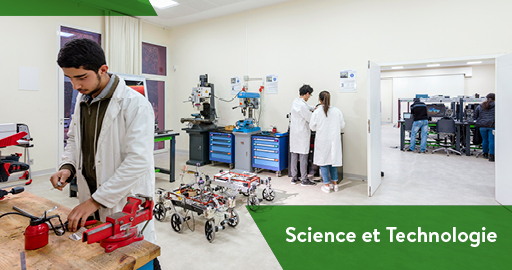 Undergraduate students & Masters: A path inside innovation, technology and jobs of the future 
The Science and Technology (S&T) Pole of UM6P is based on a "Project / Program" concept, broken down into four components
1)  EMINES (School of Industrial Management),
2)  ESAFE (School of Agriculture, Fertilizers and Environment Sciences)
3)  SAP+D (School of Architecture, Planning & Design 
4) IST&I (Institute of Science, Technology & Innovation) which focuses on  : 
•   Chemical & Biochemical Sciences.Green Process Engineering (CBS.GPE)
•   Materials Science, Energy and Nano-Engineering (MSN)
•    Innovation Lab for Operations (ILO)
•    Al Khwarizmi and Modeling, Simulation and Data Analysis (MSDA) 
•    Computer & Communication Sciences (CCS)
•    Geology & Sustainable Mining (GSM)
•    Centre Interface Applications Medicales (CIAM)
The pole offers a wide choice of undergraduate, graduate and Phd trainings covering important themes for the future of industries. This offer is supported by pluridisciplinary experimental research in numerous disciplines: Applied Mathematics, Industrial Management, Computer Sciences, Chemical Sciences, Material Sciences, Agriculture and Architecture.
Click here for more details on our undergraduate and graduate offer for 2020/2021.
If you have any further question, please send an email to [email protected]