Discover our offer in Human, Economical and Social Sciences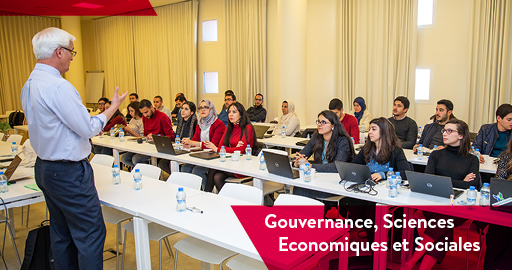 Our offer in Governance, Economical and Social Sciences
As a strategic compenent of University Mohammed VI Polytechnic University, The Faculty of Governance, Economic and Social Sciences aims to provide  students with the essential skills to develop, implement and evaluate efficient, sustainable and human public policies, thanks to a curriculum based on three fundamental axes: Economics, Political science and Behavioral sciences. These courses are designed to prepare a next generation of policy-makers in administration, governance, business or research. They combine personal fulfillment and commitment to the common good.
The FGSES, a faculty with an international vocation, is connected to a global network of universities, institutions and industrial players.
Basing its teaching and research on a Southern perspective, and for the South, the Faculty of Governance, Economic and Social Sciences aims to:
• Train visionary decision-makers able to reform public policies
• Understand and anticipate the geopolitical issues of Africa
• Develop economic development models for Africa
• Understand the evolutions of society and participate in the decompartmentalisation of knowledge.
MISSIONS : 
En basant son enseignement et sa recherche sur une perspective vue du Sud, et pour le Sud, la Faculté de Gouvernance, Sciences Economiques et Sociales ambitionne de : 
• Former des décideurs visionnaires capables de réformer les politiques publiques 
• Comprendre et anticiper les enjeux géopolitiques de l'Afrique 
• Développer des modèles de développement économique pour l'Afrique 
• Comprendre les évolutions de la société et participer au décloisonnement des savoirs.
uipment through an exclusive virtual tour.
, Development, and Business Units. 
This has allowed the S&T Pole's activities to be reorganized around the following Projects and Programs:
• Geology and Sustainable Mining
• Chemical and Biochemical Sciences Green Process Engineering 
• AgrobioSciences 
• Materials Science and Nano-engineering 
• Industrial Management 
• Complex Systems Engineering & Human Sciences 
• Renewable Energies • Architecture Planning and Design 
• Computer & Communication Sciences 
• Medical Application interface
These projects and programs benefit from technological platforms such as the FabLab, SimLab, and the innovative Living Labs.
 
Admission:
To apply : http://fgses-um6p.ma/