A PLACE TO LIVE
The UM6P campus, designed by architects Ricardo Bofill and Elie Mouyal, combines modernity and tradition and provides new and well-equipped infrastructures, fully adapted to the needs of teaching and research. It allows students to benefit from a living environment conducive to learning, community life and personal growth.
Located on a 17-hectare campus in the heart of the future green city of Benguerir and close to Marrakech, the campus also offers high quality accommodation and catering at international standards. The campus is also well-equipped with state-of-the art sports and fitness facilities.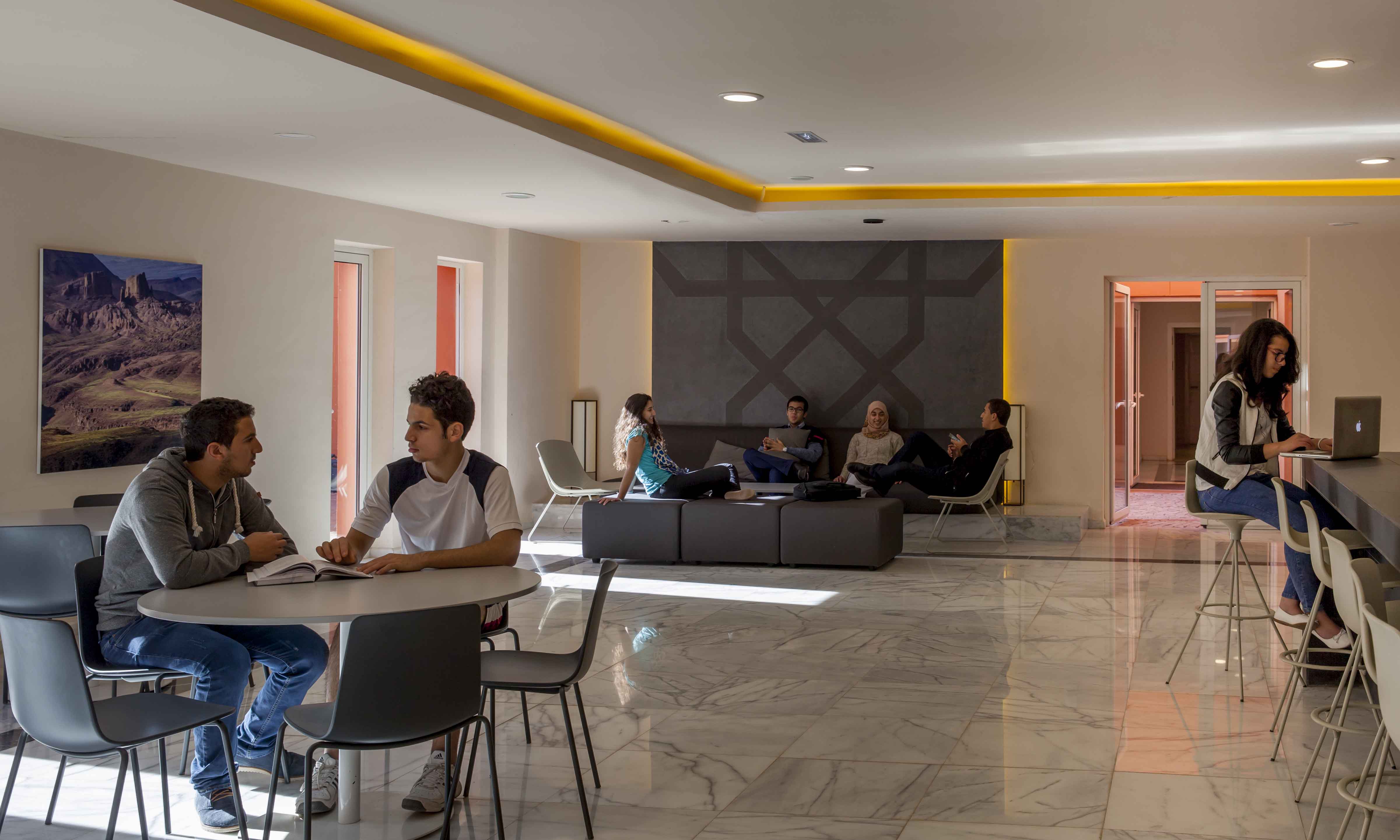 ACCOMMODATION AND CATERING: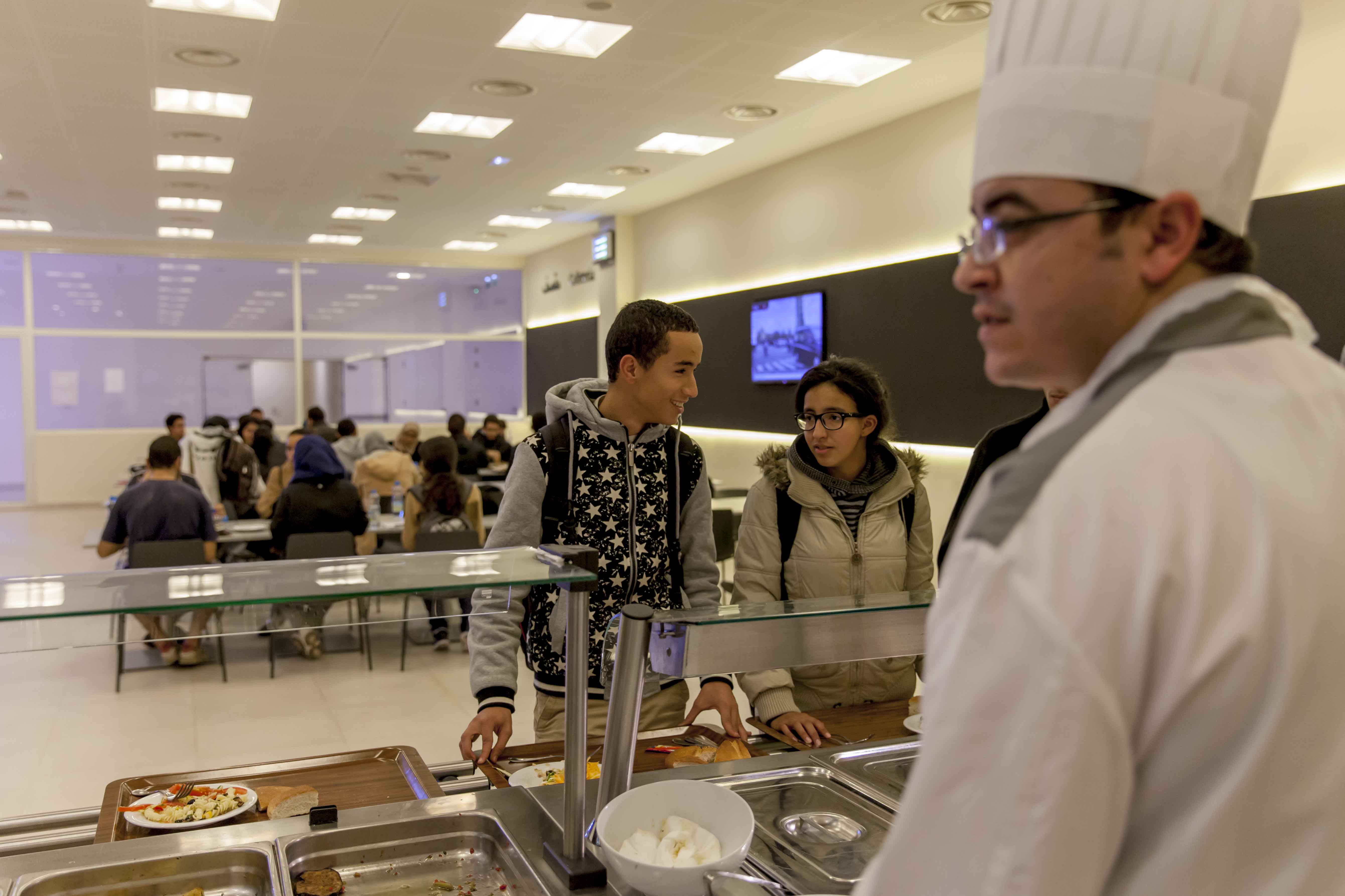 The campus offers different types of accommodation in single, double or quadruple rooms, meeting the highest standards. High-speed internet access and a telephone line are available in all units, which benefit from shared leisure and relaxation areas and a 24-hour security service. Rooms are equipped for access and accommodation to those with reduced mobility.
Students, as well as the academic and administrative body have access to a university restaurant offering varied and balanced menus. The restaurant serves breakfast, lunch and dinner with wide ranges of opening hours, allowing each student to eat at his own pace.

Located on the ground floor of the main Teaching Building and a real meeting place for UM6P students and teams, is a cafeteria which offers hot and cold drinks, as well as snacks.
HEALTH, A PRIORITY:
The health of our students and our teams being paramount, the following elements are put in place:
Infirmary: The campus has an on-site infirmary with a specialized team, for consultation or first aid in case of discomfort or accident, and orientation to a doctor or hospital when necessary. An ambulance is also available if needed.
Insurance : All UM6P students benefit from the coverage of the School Civil Liability Insurance and Assistance. 
SPORTS LIFE:
Well-being also involves the regular exercise, which is strongly encouraged on campus. The Athletic Department offers a range of physical and sports activities via high quality sports facilities, both indoors and outdoors.
5000 m² outdoor sports ground including :
- 2 turf mini football pitches
- 4 sports courts (tennis, basketball, handball volleyball)
 
A 25-meter semi-Olympic pool and a learning pool
Fitness room
A weight room
A dance hall
A combat gym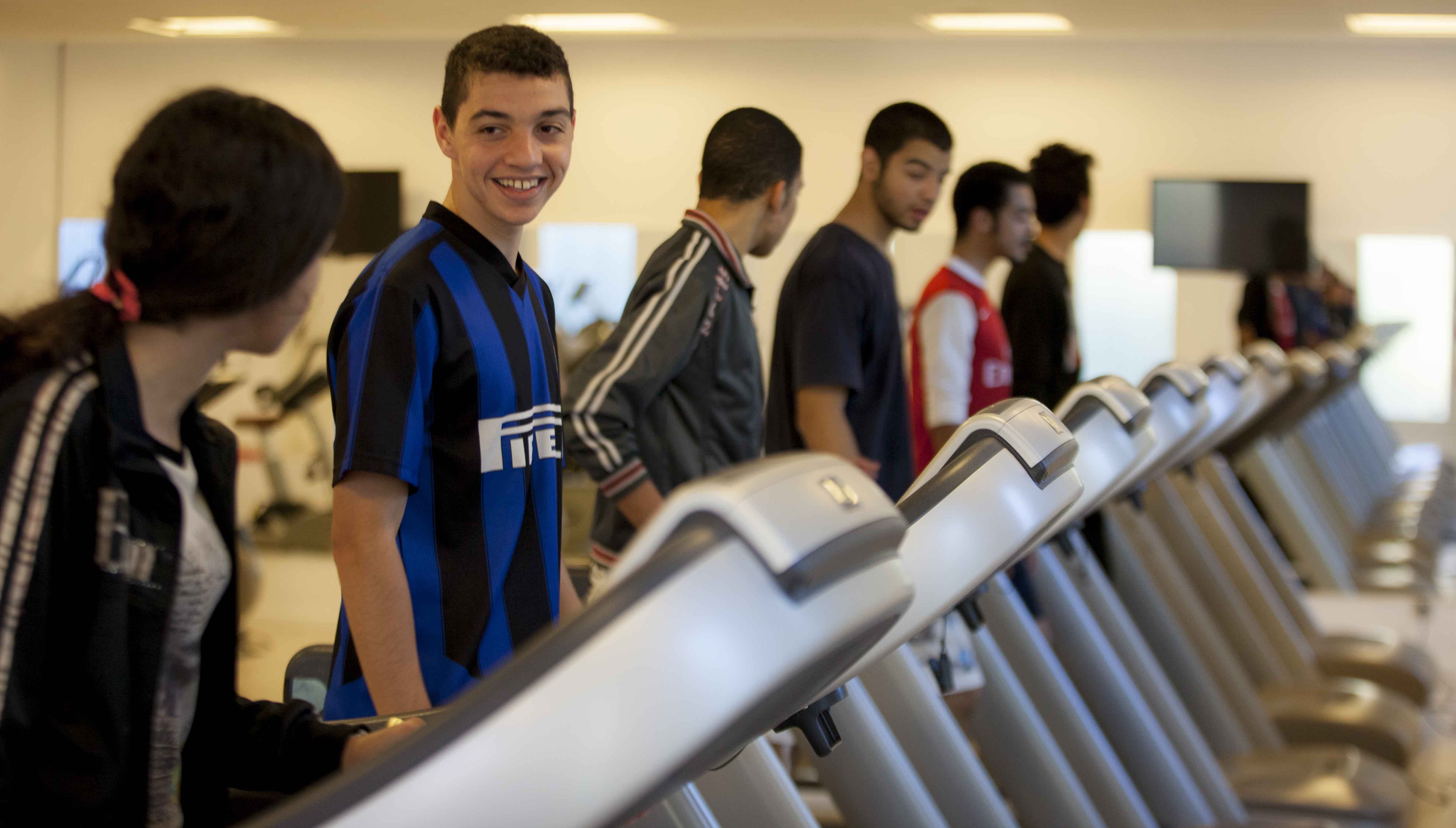 COMMUNITY LIFE: 
Associative student projects, whether they concern entrepreneurship, tutoring, civic engagement, especially with the Benguerir community or campus life, are supported by the University and encouraged.
ADVANCED PEDAGOGICAL INFRASTRUCTURE
To ensure quality teaching, the UM6P relies on a set of state-of-the-art teaching infrastructures: classrooms and lecture halls, computer rooms and fully equipped practical laboratories, learning center, digital learning lab, etc.
LEARNING CENTER :
The learning center is a space dedicated to the service of education, culture, and knowledge. Both physical and digital the learning center provides reference services, consultancy, research and specialty resources. 
More than 12,000 works/titles are available to the public : books, newspapers, reviews, cds, dvds and other resources.
Digital leaning  lab
The digital learning lab provides digital modes of education thanks to cutting-edge digital technology : flipped classrooms, e-learning or MOOCS « MASSIVE OPEN ONLINE COURSES » which are currently under construction for graduate and executive courses.
To answer to the needs of digital learning, the lab provides teachers and researchers with a studio, a pedagogical design team in charge of creating digital learning solutions.